Want to relax after a tiring day at work? Or need one fortress of solitude for yourself? The solution is building a whiskey man cave! Here is how to build a classy man cave.
How to build a whiskey man cave
Being a man requires you to have a nook in your home that is your escape when you need to get away from everything. Not only getting away is the key focus here, but you would also want a place where you can get drunk with a background of manly decor. Most men would wish to their man cave to be themed and awe-inspiring. But conjuring up such a corner maybe let you think for hours. Do not worry; there is a remedy to your plight. It is none other than having a whiskey man cave. 
With the endless potential for outfitting and designing your man cave, the whiskey man cave is the ultimate solution. It is a home inside your home where you can enjoy the sophisticated ambiance just like you wanted. The whiskey itself is a classy lifestyle for the modern men out there. Having a whiskey theme with a free-standing home bar or a bar butler will be the perfect place for hosting your family and friends.
If you are one of a kind and looking for something new and refreshing to relax in your man cave, then here is a guide of how you can build your whiskey man cave.
1. Bar Decor For Whiskey Lovers
As every man needs one whiskey man cave that has whiskey as an integral aspect, the other important thing is the bar to place the whiskey brands you love. Decorating the bar with the nest creative wall arts or canvas prints is a must in your whiskey man cave. You can put up some wall art in your whiskey. Man cave and make it eye-catching for everyone who comes to you. To exude the essence of the whiskey, you can also add a vintage style canvas print on the wall behind your bar. This will present you to be a refined man with class and depth both.
2. Home bar signs
Accessorizing your whiskey man cave is another next thing you should do as a whiskey lover. To let your family, friends, and even spouse know how much you love the whiskey, you can get the signage that has your name on it. The personalized bar signs will inspire your family friends too and will let them bring you some best gifts for whiskey lovers to add to your decor. The bar signs can have famous sayings and quotes that are good to read.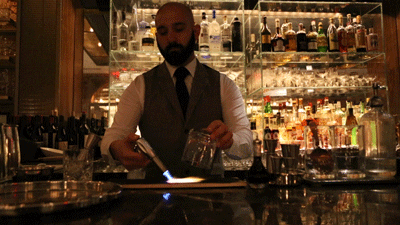 3. Whiskey stones
To enjoy the time in you, you need to have the graphite stones that will keep your whiskey clean and strong. Enjoy the unique gifts for men you get from friends and family visiting you at your man cave with a strong whiskey. Wanting to have the serene chilled whiskey enjoyment is one of the things you would want in your man cave for sure. You can get the whiskey stones to make the experience more fun.
 4. Show off the love for whiskey
The particular section you have to unwind and grow is the most important of all the corners of your house. You can add almost all the brands you love the most of the whiskey. Rather than having a generic man cave go for a classy look that will sway the visitors away! Get your man cave themed with whiskey. Add the names of the famous whiskeys on the bar or the wall behind it. Accessorize the whiskey man cave with as many things as you want, but make sure they are all related to whiskey.
 5. Get some good bar ideas for man cave
The whiskey man cave is for the whiskey lovers who want a place in their house where the family and friends can hang out in and play, talk, and have fun. You can use some state of the art bars or also create one on your own with some creative ideas. A suitcase bar, a bottle shelving bar, or even.a globe bar will give one excellent look to your man cave. Try to be as creative as you can to make your cave the best.
 7. Accessorize well
Adding accessories to your whiskey man cave will give a look that you will love yourself. You can add a good set of darts to your man cave. Also, a mounting bottle opener will have a fussing fun adding to the decor of your wall. Some profound sea sand art will also work wonders for your cave. Add as many accessories as you want them but balance them properly. Too many accessories will overwhelm the visitors, and it will be congested for you and your visitors too. You can also buy gifts for whiskey lovers that can add up to your decor and make it look perfect.
 Your perfect fortress of solitude is one crucial thing. You should think well and spend well on it. This place is not a work zone; it is a chill zone for you to make sure you do that and bring justice to the purpose.
 Stocking up a wet bar slowly Will increase your creativity and offering to your friends and family too. Add vodka, whiskey, rum triple sec as your fine elemental spirits. You can turn the man cave in anything you'd ant according to your hobbies, tastes, and likings. You can bring evolution to your whiskey man cave every other month. Changing the settings and adding new things while discarding the older ones will bring life to your man cave. Make sure not to sacrifice your zone of comfort. Get the perfect sofas for you to relax and enjoy the nap in your man cave with your best whiskey glass by your side.
 Get started with these tips mentioned above and build your whiskey man cave where you can relax after a long tiring day. Ensure to bring some creativity to it to have fun when you throw a party and call your friends and family over to your man cave.